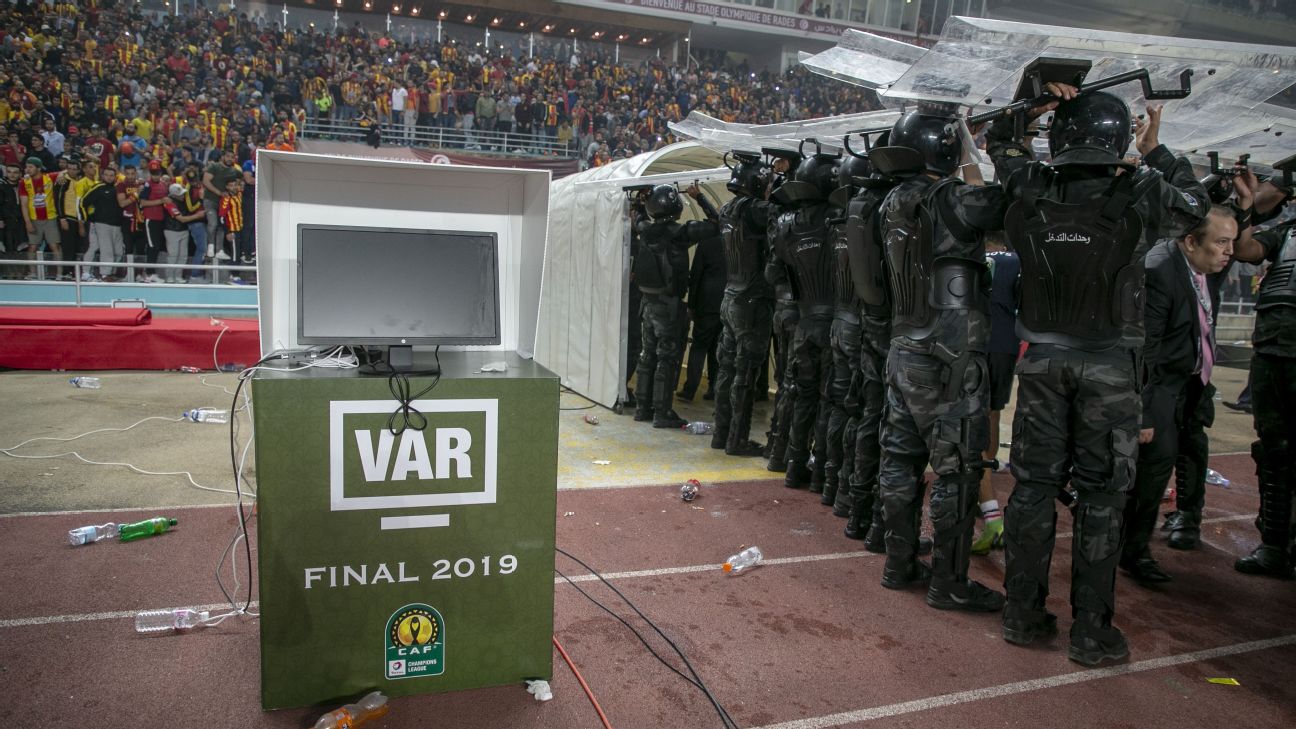 ENFIELD, England — The United States women's national team spent its training camp in England preparing to control everything in its power during the World Cup. Players got a reminder Wednesday night that Video Assistant Referee (VAR) is not among those things.
Like many soccer fans across the globe, members of the U.S. team relaxed Wednesday evening watching the UEFA Nations League semifinal between Portugal and Switzerland. And like fans everywhere, they puzzled at the curious sequence of events that turned what appeared to be a certain penalty call against Switzerland into a penalty kick for the Swiss at the other end of the field after referee Felix Brych studied replays of an apparent earlier infringement.
U.S. defender Kelley O'Hara said the controversy, ultimately made moot by Portugal's win, sparked renewed conversation among U.S. players about the use of VAR in the Women's World Cup. Friday's tournament opener between host France and South Korea marks the first ever use of VAR in any senior international women's tournament or domestic league.
"We're getting introduced to VAR for the first time in the World Cup, which is kind of crazy," O'Hara said, "To be introduced to something brand new on the biggest stage in the biggest games of your life. But the overall sentiment that we were talking about was we're just going to have to be able to deal with it. If something goes wrong, just move on to the next thing."
FIFA implemented VAR for the first time in a men's World Cup a year ago, but it didn't announce until this past March that the review system would be used for the women's tournament. As in the men's tournament, it will be in place to review goals, penalties, straight red cards and cases of mistaken identity.
Unlike on-field officials, all of whom are women, all 15 video officials for the Women's World Cup are men. FIFA explained its selection as an effort to put in place the most experienced crew. Of the 15 officials, 10 filled the same role in last year's men's World Cup.
Alex Morgan noted that in watching MLS games since that league added VAR in 2017, she has seen the importance of following any action through to its conclusion – with assistant referees increasingly instructed to let close offside calls play out.
"Just watching VAR kind of progress over the last year or two," Morgan said, "Something I really appreciate as a forward is when you might be offside or you might not, the assistant referee not raising their flag immediately to give advantage. Obviously it could be reviewed with VAR at the end of the day. That's something I've noticed this year that they've changed [in MLS] with VAR."